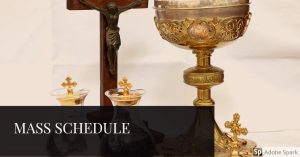 Saturdays 4:30 pm (Rosary before Mass during October)
Sundays 8:30 am and 10:30 am (Rosary before Mass during October)
Mondays 12:10 pm
Tuesdays 7:00 am
Wednesdays 7:00 am
Thursdays 12:10 pm
Fridays 7:00 am
Saturday 8:30 am
Note: If Inclement Weather
Our policy states that if the Ithaca City Schools close due to weather, the office will be closed. To ensure Parishioners safety, Fr. Chumo decided that there will also be NO 7:00am Daily Mass if the schools close. The 12:10pm Mass will take place. A delay in school opening does NOT affect the Mass schedule or office.
---
Sacrament of Reconciliation
SaturdayS 2:00 PM- 4:00 PM
Expanded Opportunity for Reconciliation During Advent
On Saturday, December 8th our Pastor, Fr. Chumo and our retreat facilitator, Fr. Dennis Billy will both be available for confessions from 2:00p.m. until 4:15p.m. in church. We hope you can take advantage of this opportunity.
---
Eucharistic Adoration
First Fridays of the Month: 7:00 AM – 9:00 AM with Benediction to Follow
First Fridays of the Month: 7:00 PM- 8:00 PM (Praise, Worship & Adoration)
First Saturdays of the Month: 3:00 PM – 4:00 PM
---
Mass of Remembrance
Saturday, November 3 at 10:00 AM
---