Lent Program
All Thursdays during Lent: 
Holy Hour at 11.00 AM

Benediction at 12 Noon (March 7-April 18)

Mass at 12:10 pm
All Fridays during Lent: 
Stations of the Cross at 6:00 PM (March 8- April 12)

Stations of the Cross at 7:00 PM (Good Friday April 19)
Cantata: Friday, April 5th at 7pm in the church
The Immaculate Conception Church will again be presenting a Lenten Cantata entitled "Portraits in Grace" by Joseph Martin on Friday, April 5th at 7:00pm. Area Choirs and a Chamber Orchestra will perform this wonderful work that is open and free to the public. About 1 hour. Mark your calendars now. You won't want to miss this this touching and moving musical performance.
---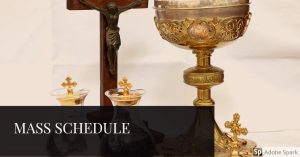 Regular Weekly MASS Schedule:
Saturdays 4:30 pm
Sundays 8:30 am and 10:30 am
Mondays 12:10 pm
Tuesdays 7:00 am
Wednesdays 7:00 am
Thursdays 12:10 pm
Fridays 7:00 am
Saturday 8:30 am
Note: If Inclement Weather
Our policy states that if the Ithaca City Schools close due to weather, the office will be closed. To ensure Parishioners safety, Fr. Chumo decided that there will also be NO 7:00am Daily Mass if the schools close. The 12:10pm Mass will take place. A delay in school opening does NOT affect the Mass schedule or office.
---
Sacrament of Reconciliation
Saturdays 2:00 PM- 4:00 PM
---
Eucharistic Adoration
All Thursdays during Lent: Holy Hour at 11.00 AM and benediction at 12 Noon
First Fridays of the Month: 7:00 AM – 9:00 AM with Benediction to Follow
First Fridays of the Month: 7:00 PM- 8:00 PM (Praise, Worship & Adoration)
First Saturdays of the Month: 3:00 PM – 4:00 PM
---