BISHOP MATANO'S VISIT TO OUR PARISH
The Bishop is visiting our parish on Palm Sunday, March 25. He will preside at 10.30 AM Mass. We are fortunate to begin Holy Week with his blessings. Plan on attending and bring a friend.
---
Meet our Parish Pastoral Council
---
Notre Dame Accepting Registrations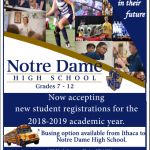 ---
Our local Church is celebrating 150 years of faith in Christ and mission.
Through the Church we receive rebirth to become the children of God and all the spiritual nourishment needed for our faith journey. Everyone is encouraged to pick up one book produced to mark 150 great years of faith for your family library. This book contains beautiful pictures of the parishes in the Diocese which we are a part of, and a brief history. These churches are sacred buildings. They were built by our ancestors who sacrificed so much. Let's thank God for the many years of faith in our Diocese and entrust its future in the hands of God. Let's endeavor to pass on a stronger and solid faith to the next generation. Make a donation for this book to Immaculate Conception Church by Easter Sunday using the blue envelopes inside each book.
---
Immaculate Conception Icon
The Immaculate Conception Icon, which was so generously given by the Knights of Columbus, and proudly displayed in church for the past weeks, has been placed in it's permanent spot. It is now hanging in the main office at the Parish Center—what a beautiful way to welcome any visitors to the office and to Immaculate Conception. Thank you to the Knights of Columbus for helping secure this Icon for us.
---
A Note from the Service Committee
The Service Team has been busy planning for the Thanksgiving and Christmas programs. After Masses on Nov. 4 and 5, and again on Nov. 11 and 12, team members will be collecting monetary donations towards this year's Thanksgiving Harvest Bag program. Last year we provided fresh produce to 60 senior citizens at Titus Towers. Based on positive feedback, we are anticipating fulfilling more requests this year. Any dollar amount is welcome and gratefully appreciated!
The Christmas season is fast approaching and the Immaculate Conception Giving Tree is now up. Tags contain suggestions for toys that will be distributed to children all over Tompkins County through the "Cops, Kids and Toys" organization. We also continue our tradition of collecting baby items for BirthRight. Please plan to stop by after Mass and pick up a gift tag. Unwrapped gifts (with the gift tag taped to the outside of the gift) should be returned to the church by Sunday, December 3rd.
---
Coming during Lent 2018: Christlife's "Discovering Christ" Series
A Catholic apostolate started by the Archdiocese of Baltimore in 1995 as a response to St. Pope John Paul ll's call for a new evangelization, this program has aided over 60,000 people from 76 dioceses in 9 countries to experience a new or renewed encounter with God's love through Jesus Christ (ChristLife.org). Please plan to join together during lent for this 7 week program and invite a friend or neighbor. For more details visit this page on our website.
---
Immaculate Conception Icon
The Knights of Columbus will be presenting an image of The Blessed Virgin of the Immaculate Conception at the Holy Hour from 3-4pm on Saturday, October 7th. This Icon was obtained by the Supreme Council and has been circulated for viewing amongst the Councils of the Finger Lakes District in the Rochester Diocese. This particular Icon has completed it's circulation and we are now looking for a permanent home. After hearing this, Fr. Chumo applied for our church. The Supreme Executive Committee have decided that Immaculate Conception is the rightful place for the Icon and Fr. Chumo will accept it formally at this Holy Hour. It will be presented by a Senior Representative from the State Council. A reception and viewing will follow in the Parish Hall.
---
The new Music Ministry Choir Season is in full swing!
We urge anyone interested in participating to join now. No prior experience needed! The Contemporary Group rehearses on Wednesdays, at 5:00pm. The Traditional Choir rehearses on Tuesdays at 6:00pm starting September 5, 2017. Please consider sharing your voice with one of our Choirs! Stop by during any of our rehearsals or contact Gary at HolySpearRats@gmail.com or call the Parish Office at 273-6121. We have the best seats in the house.
---
Seven Sisters Apostolate
Ladies, do you enjoy spending time with Our Sacramental Lord? Are you looking for ways to be a channel to allow God's graces to flow into our parish? Do you feel called to pray for priests? If so, please check out the Seven Sisters Apostolate at sevensistersapostolate.org and prayerfully consider participating. Parishioner Wendy Babiak has received permission to begin the apostolate at Immaculate Conception, and she needs 5 more sisters, and several alternates (who may be ladies or gentlemen). Contact her at (607)745-8627 or wendybabiak@gmail.com.
---
Light Weigh Returns
Would you like to attain peace with food? Light Weigh One King (LWOK) is a 12-week Scriptural course dealing with spiritual growth while tackling weight loss. Light weigh is based on Catholic Bible Study, readings, prayer, reflection and response. Since the program's inception over 15 years ago, Light Weigh has helped many who have struggled with weight loss and other addictive habits. If God is calling you to be contemplative in action, then wheat are you waiting for?! Our group begins again this fall, commencing September 14th. Contact Pat Ober for further information at 273-5277 or pober@me.com.
---
PARISH COOKBOOK
We will be collecting recipes over the summer for our new parish cookbook. There will be a box in the back of the church for the collection. In the fall we will be submitting them to a publisher and anticipate the books to be ready just before Thanksgiving. They will be here for holiday gift giving. Fr. Chumo promised to bring some of his family favorites from Kenya when her returns. We hope to see your recipe in print in our new parish cookbook. For more information, or to volunteer to help, contact Shirley Engman (607-277-4357 -orsayankee@gmail.com)
---
Sacristy HAS a new look
Thanks to the giving of time and talent to some wonderful volunteers, the Sacristy has a complete new look. Items have been sorted and organized and it has a new fresh coat of beautiful blue paint. The generosity of our volunteers is truly a blessing to this Parish! If you haven't already seen the "New and Improved" Sacristy, be sure to look in next time you are in Church.
---
NEW CARING TEAM MINISTRY
During our lifetime we experience many life changes. We, on the Caring Team Ministry, look forward to acknowledging some of these with you with a friendly "care card".
---
NEW PHONE MINISTRY
Many parishioners have their own built in support system with family and friends. For those who would like a friendly phone call once a month from one of our Phone Ministry members.
---
NEW MISSION & GOALS:
View our new mission & goals here
---
NEW Prayer Shawl Ministry:
Interest form found below or visit the Forms page on our website