---
PARISH Calendar
SCROLL DOWN THE PAGE FOR ADDITIONAL EVENTS/NEWS
---
Ministry Fair
We plan on having a Ministry Fair weekend on
September 15/16. Ministry team leaders are encouraged to plan on how they
want to showcase their ministry and invite new members.
---
Ministry enrichment talks
Ministry enrichment talks will be offered at all weekend Masses September 8
and 9. The goal of ministry enrichment is to better understand our Baptismal
call to share in the mission of Christ here at Immaculate Conception. Ministry is
essentially a means to say "yes" to the Lord, opening our hearts to his loving
invitation and responding in faith and charity. The sessions will be brief and
focused. Plan on being there. It is good and a blessing to be part of the mission
of our Lord in our parish.
---
Music Ministry begins again in September
The Music Ministry will begin with the new choir season in September. New
members for both the 8:30 Contemporary Ensemble and the 10:30 Choir are
always needed and welcome! It is also a way for families to participate together.
Please contact Gary Vrabel at 273-6121 x102.
---
40 Days for Life
"Can you love enough to do more? Love WILL end abortion." Jim Havens
From September 26th – November 4th, Ithaca 40 Days for Life, a peaceful and prayerful campaign…takes place right here in our community. Join us in peaceful vigil across from Planned Parenthood, 620 W. Seneca St., Ithaca, along the public right-of way, 7AM-7PM. Please consider praying with us for just one or 2hr weekly, with a friend, your church, or your family. For more information, contact Mary Anne Tissot, 315-246-7479 or email sweetwind53@yahoo.com
---
Ithaca Peace Festival
The Ithaca Peace Festival will take place at St. Catherine of Siena Church the weekend of September 7-9! The Festival includes amazing music from great local and regional bands; international food, Silent Auction; dancers, etc. Admission is $15 Adults, kids 18 & under are Free. For info go to www.ithacapeacefest.org.
---
Pietra Fitness
Carges Hall, Wednesdays at 3pm
Contact Pat Ober at 273-5277 or pietraupstate@gmail.com
---
Spiritual Book Club
Are you a young adult or an avid reader of spiritual books? There is an already
growing ministry in our parish. The group meets every Sunday afternoon to read,
discuss a book/books and draw spiritual lessons to nourish their faith. If you are
interested and want to grow in your faith kindly contact Dante Iozzo
<danteiozzo@gmail.com for more information.
---
Meet our Parish Pastoral Council
---
Notre Dame Accepting Registrations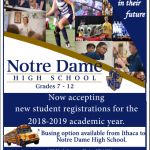 ---
Our local Church is celebrating 150 years of faith in Christ and mission.
Through the Church we receive rebirth to become the children of God and all the spiritual nourishment needed for our faith journey. Everyone is encouraged to pick up one book produced to mark 150 great years of faith for your family library. This book contains beautiful pictures of the parishes in the Diocese which we are a part of, and a brief history. These churches are sacred buildings. They were built by our ancestors who sacrificed so much. Let's thank God for the many years of faith in our Diocese and entrust its future in the hands of God. Let's endeavor to pass on a stronger and solid faith to the next generation. Make a donation for this book to Immaculate Conception Church by Easter Sunday using the blue envelopes inside each book.
---
Immaculate Conception Icon
The Immaculate Conception Icon, which was so generously given by the Knights of Columbus, and proudly displayed in church for the past weeks, has been placed in it's permanent spot. It is now hanging in the main office at the Parish Center—what a beautiful way to welcome any visitors to the office and to Immaculate Conception. Thank you to the Knights of Columbus for helping secure this Icon for us.
This image of The Blessed Virgin of the Immaculate Conception was obtained by the Supreme Council and has been circulated for viewing amongst the Councils of the Finger Lakes District in the Rochester Diocese. This particular Icon has completed it's circulation and was looking for a permanent home. After hearing this, Fr. Chumo applied on behalf of our church. The Supreme Executive Committee decided that Immaculate Conception is the rightful place for the Icon and Fr. Chumo accepted it formally at a Holy Hour presentation by a Senior Representative from the State Council.
---
OUR MISSION & GOALS
View our new mission & goals here
---