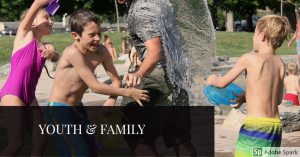 ---
Attention all middle school and high school youth.
Rich Rasmussen, Pastoral/Catechetical Leader leads our Youth and Family Faith Formation programs. For more information about each program, see this document or contact Rich at the Parish Office (607-273-6121 ext 102) or via email: rich.rasmussen@dor.org.
Our Mission

To help young people and families nurture their faith, spirituality and Catholic identity through religious education programs, middle school and high school youth groups, family/inter-generational social events, leadership and service opportunities.
To help young people become aware of their gifts and talents and to use those gifts and talents to serve their families, parish and greater community.
To support parents and provide the resources they need to nurture and make genuine the Catholic faith of their children.
* Please refer to our Calendar of Events on the Home page for current session dates, time, and location for specific programming including social events.
 
What?
Why?
When?
Where?
Family Based Religious Education
A group specifically for K-6th graders.

The family based program is unique in that parents and children primarily complete their religious education at home. Families use grade level religious education books as a way to educate their child(ren) about faith. Support is provided through monthly gatherings from September through May in which the entire Family Based group comes together to share what they have learned and participate in a separate lesson that is organized by the Coordinator of Youth and Family Ministry. These sessions are informal yet engaging and provide families the opportunity to interact with each other in a variety of ways in an effort to enhance the learning experience for everyone. Service to the parish and larger community are a key component to this program as well.

Once a month.

Sunday 5:30pm-7:00pm

*from Sept-May

Parish Hall
Middle School Youth Group
A group specifically for 6th-8th graders.

We laugh a lot but we also take our faith seriously. We talk about a lot of different topics as they relate to our Catholic faith and how we are to respond in our daily lives.

Sundays

2:30pm- 4:00pm

*from Sept-May

Youth Center
High School Youth Group
A group specifically for 9th-12th graders.

We laugh a lot but we also take our faith seriously. We talk about a lot of different topics as they relate to our Catholic faith and how we are to respond in our daily lives.

Sundays

11:45am- 1:15pm

*from Sept-May

Youth Center