PARISH DIRECTORY
"Lifetouch," who has taken over from the former Olan Mills Portrait Studio, will be working with us on a new Parish Directory. The last time we had a directory printed was in 2011, so it is high time for us to do an update! Our portrait sessions are now scheduled for Friday, August 17th & Saturday, August 18th AND Friday, September 7th & Saturday, September 8th.
Read more: Photos for Parish Directory Flyer
To schedule a session online, click on the image below:
---
FRENCH BOYS CLUB CONCERT
Monday, August 20th at 2:00pm
Immaculate Conception Church
---
Meet our Parish Pastoral Council
---
Notre Dame Accepting Registrations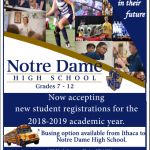 ---
Our local Church is celebrating 150 years of faith in Christ and mission.
Through the Church we receive rebirth to become the children of God and all the spiritual nourishment needed for our faith journey. Everyone is encouraged to pick up one book produced to mark 150 great years of faith for your family library. This book contains beautiful pictures of the parishes in the Diocese which we are a part of, and a brief history. These churches are sacred buildings. They were built by our ancestors who sacrificed so much. Let's thank God for the many years of faith in our Diocese and entrust its future in the hands of God. Let's endeavor to pass on a stronger and solid faith to the next generation. Make a donation for this book to Immaculate Conception Church by Easter Sunday using the blue envelopes inside each book.
---
Immaculate Conception Icon
The Immaculate Conception Icon, which was so generously given by the Knights of Columbus, and proudly displayed in church for the past weeks, has been placed in it's permanent spot. It is now hanging in the main office at the Parish Center—what a beautiful way to welcome any visitors to the office and to Immaculate Conception. Thank you to the Knights of Columbus for helping secure this Icon for us.
---
Immaculate Conception Icon
The Knights of Columbus will be presenting an image of The Blessed Virgin of the Immaculate Conception at the Holy Hour from 3-4pm on Saturday, October 7th. This Icon was obtained by the Supreme Council and has been circulated for viewing amongst the Councils of the Finger Lakes District in the Rochester Diocese. This particular Icon has completed it's circulation and we are now looking for a permanent home. After hearing this, Fr. Chumo applied for our church. The Supreme Executive Committee have decided that Immaculate Conception is the rightful place for the Icon and Fr. Chumo will accept it formally at this Holy Hour. It will be presented by a Senior Representative from the State Council. A reception and viewing will follow in the Parish Hall.
---
Seven Sisters Apostolate
Ladies, do you enjoy spending time with Our Sacramental Lord? Are you looking for ways to be a channel to allow God's graces to flow into our parish? Do you feel called to pray for priests? If so, please check out the Seven Sisters Apostolate at sevensistersapostolate.org and prayerfully consider participating. Parishioner Wendy Babiak has received permission to begin the apostolate at Immaculate Conception, and she needs 5 more sisters, and several alternates (who may be ladies or gentlemen). Contact her at (607)745-8627 or wendybabiak@gmail.com.
---
Sacristy HAS a new look
Thanks to the giving of time and talent to some wonderful volunteers, the Sacristy has a complete new look. Items have been sorted and organized and it has a new fresh coat of beautiful blue paint. The generosity of our volunteers is truly a blessing to this Parish! If you haven't already seen the "New and Improved" Sacristy, be sure to look in next time you are in Church.
---
NEW CARING TEAM MINISTRY
During our lifetime we experience many life changes. We, on the Caring Team Ministry, look forward to acknowledging some of these with you with a friendly "care card".
---
NEW PHONE MINISTRY
Many parishioners have their own built in support system with family and friends. For those who would like a friendly phone call once a month from one of our Phone Ministry members.
---
NEW MISSION & GOALS:
View our new mission & goals here
---
NEW Prayer Shawl Ministry:
Interest form found below or visit the Forms page on our website